After a couple of days resting at the hotel, we were told to stand-by for busses that would take us to Mina on the 8th of Dhulhijjah. No-one knew in advance exactly when the busses would arrive, but when it did, we would all quickly leave our rooms and enter the busses. We were told to pack very lightly, as the tents in Mina are not very large, and large suitcases would simply not fit. Instead, we should bring small backpacks or small carry-ons with the bare necessities for a three or four-day stay. The hotel used the loudspeaker system to call out which groups should leave, which could have worked better if it wasn´t that you couldn´t hear it very well inside the rooms. But in the end, we all made it out of our rooms.
The busses brought us to our tent area, (all tent areas are separated according to the geographical region you came from). Our area was for Europeans, Turks, and Americans (although we only saw British and Spanish people there), and was the area furthest away from the Jamarat. Other areas was for Malay people (from Indonesia, Malaysia, Brunei and Singapore), African, etc. Apart from the distance, the tents also differed in quality. The Malay tents only had fans in their tents, but we had air-condition. We couldn´t feel it much, but it would probably have been even hotter with only fans. The tents were maximized in terms of space, with foldable mattresses that could double as chairs, and water was always available in large crates. Charging possibilites for phones were limited, but I had already notified my family that I wouldn´t be calling for a couple of days, so I didn´t need to think about that.
A day at Arafat
After a sweaty night in our large tent, we were transported by bus to an even larger tent in Arafat where we spent the whole day and evening in zikr. Food and water was delivered in packages throughout the day, and fascilities were in good conditions.
In the afternoon some people ventured outside to climb the Arafat plain, but I decided to stay in the tent. It wasn´t recommended for people to go there, as they could get lost on the way – not to mention the number of people they would encounter on the way up.
The field of Muzdhalifah
When Maghrib had arrived we were bussed to the field of Muzdalifah where we prayed Maghrib and Isha, and looked for pebbles that we would use during the next consecutive days in Jamarat. It was actually a lot of fun looking for those pebbles under the light of stars (and some mobile phone flash lights). Everyone had to collect 70 pebbles each, and throughout the activity you´d hear people ask "how many have you got?".
Once we had collected our pebbles there was nothing else to do but go to bed. In this case, "bed" was a relative term. Although we had thin mattresses in Arafat that we brought with us, it felt like sleeping on the ground. I had brought a sleeping bag for this particular event, and although it was warm sleeping outdoors under the night sky, it was a necie experience. While we were in the field, there was no separation of people, and no-where to really change clothes, so I went to bed in the clothes I´d worn the whole day – and frankly, I didn´t care.
Mina and Jamarat
Early the next morning we woke up to brush our teeth, splash some water onto ourselves, and pray Fajr before the long walk back to Mina. It was a nice walk early in the morning, but it was tiring, at least for me. I don´t remember the last time I walked so much in such a short time span!
After we had gotten back to our tents in Mina we were told that we would go to Jamarat and throw our first pebbles around lunch time. We were all allocated specific times for when we could leave the area to prevent mixing of people from different tent areas. We tried to ask if we could get a head start compared to the rest of our group as we had people who weren´t all that well (and me, who was pregnant) and might not be able to walk as fast. The reply we got was no. If someone wasn´t fit enough there were wheelchairs that could be rented, or people could ask someone else to go on their behalf.
Luckily, our slot was shifted, meaning that we got to go when it wasn´t as warm outside. Getting to the Jamarat was a long walk of close to an hour one-way, and even longer on the way back (as you walk in a circular motion to optimize the number of people in the flow). But the walk isn´t all too unpleasant. As we were walking, there is a strong group drive to get you going forward, with a flag-bearer so you can always see where your group is. And you can see which countries you are passing by on the way (if your group is a fast-walking one like ours), or which countries walk faster than yours. Along the way, there are multiple people whose job it is to spray cold water on people who pass by (similar to a parade). It helps to cool us down as we are walking, and it always makes the people in the crowd squeal with delight (it feels REALLY good to get that cold water mini-showers). The first day you only throw 7 pebbles at the pillar furthest away, but the next three days you throw 7 pebbles per pillar at all three pillars every day. After we had gotten back there wasn´t much to do but to take a shower, and rest until the next day when we repeated it again.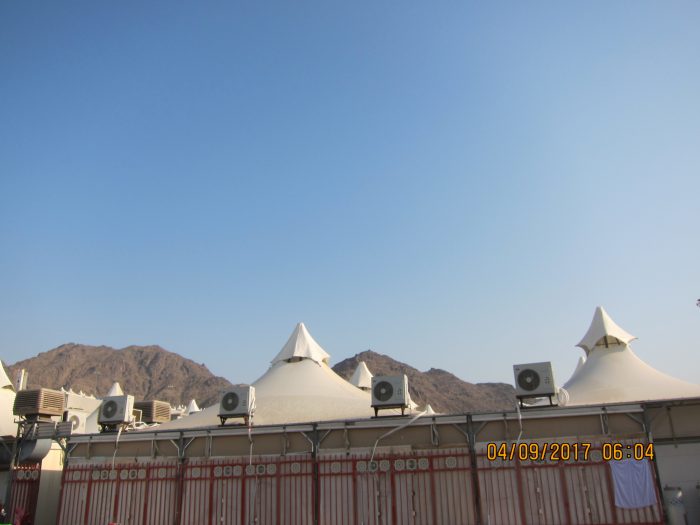 On the final day, after we had finished our walk, it was time to go back to the hotel. We went back by bus, and after having gotten back we packed our bags to prepare for the move to a hotel situated closer to the Grand Mosque, where we spent our last days in Mekkah before taking a bus to Medinah, from which we flew back after a couple of days.
My impressions
In general, our Hajj was very nice. It wasn´t too difficult, although most people in our group got sick in Mina and didn´t get better until they got back home. But I was lucky. I had some stomache-problems in Mina, but after that I was ok until we got home, which was nice. There were lots of things you could do in Mina if you wanted to, but I decided that this wasn´t a leisure trip and I wanted to focus on the necessities and perhaps go to the mosque and pray when I had the strength to do it. Other than that, I mostly stayed in the hotel.
Sometimes, people ask me if I think I want to go for another Hajj, and I don´t think I would. I don´t mind doing another Umrah, but the most taxing part of this trip was the stay in Mina. Because of the heat and the crowdedness it can be difficult to keep calm. Add an upset stomach and ever-existing toilet queues to that, and you might get an idea of the hardship. In my case, I think my pregnancy helped me a lot. I could get ahead of the queue if I really needed to use the bathroom, and no-one bothered me about anything along the way. Being pregnant also made it easier for me to say no to invitations to go out or socialize, so I could conserve my energy and reduce my risk of getting sick. Furthermore, in crowded places it was easier for me shut out the environment and focus on myself and my baby, who had already started to kick and whose movements were clearly felt. It made me less annoyed with people, and I honestly didn´t care about what was happening around me. It was easy to just completely zone out. I don´t think this would be the case if I were to go for another round, so I like to remember this Hajj as a fulfilling one – one that I am happy to remember for the rest of my life.
Read more about my Umrah and Hajj: